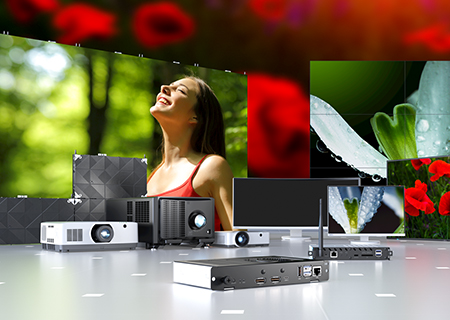 NEC Display Solutions

brings together experts in the industry and offers a single point of contact to provide total display solutions for a variety of vertical markets.
Uncompromising reliability, longevity and performance
No other vendor today can offer such a comprehensive and solution oriented portfolio. The only manufacturer of digital visual equipment able to supply all the major display technologies including LCD, dvLED and Projection; NEC is uniquely positioned to provide technology-agnostic consultancy recommending the perfect-fit solution to every application requirement.
Choose Quality
Through our products, our operations and our people, the NEC name sets us apart from the competition offering a level of excellence where reliability and integrity are inherent. The visual and operational quality of our products ensure fit-for-purpose performance built to rigorous Japanese quality standards. The cost of poor quality can have far reaching consequences - make a choice for quality and protect your investment for the future.
Visual Quality
Brightness
Uniformity
Anti-reflection filter
Colour accuracy
Customised Functionality
Many integration options
Automated functions
Remote diagnostics and monitoring
Operational Quality
Heat management
Robust metal casing
Professional components for 24/7 operation
Future-proof connectivity
Investment security, TCO and warranty
Pro-active maintenance
Embedded computing (OMi)